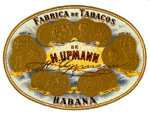 As famous a brand as there is in the world of cigars, the H. Upmann brand dates back to 1844, when Herman Upmann, a German banker, began using specially imprinted boxes of cigars as promotional items for his banking firm. The combination proved successful, so the H. Upmann brand was born and continues to this day. The success of this brand was buoyed by the award of seven gold medals in seven international exhibitions between 1862 and 1893; these awards still adorn the lithographed interior of the box today. The brand was sold to the British firm of J. Frankau in 1922 and finally in 1935 to Menendez, Garcia & Cia. prior to nationalization, continues today in the H. Upmann factory, now known as Jose Marti.

Available in a stunning range of handmade and machine-made sizes, the brand offers a mild to medium strength.

The famous request of President John F. Kennedy to his press secretary, Pierre Salinger, to obtain cigars on the evening prior to the declaration of the American trade embargo in 1961, was for Petit Upmanns - he purchased 1,200.